3 reasons

to order on the app for a flaming-hot Steers® delivery

The Steers® app is the best way to get a Steers® food delivery wherever you are in Mzansi. It's packed with all of your favourite Flame-Grilled meals, plus exclusive app deals to share with the fam. If you haven't downloaded it yet, what are you waiting for? Here are 3 of the biggest reasons to download the Steers® app on your phone ASAP!
The Steers® app saves you time
When you're in a hurry and real hungry, there's an easy way to skip the queue. Order ahead on the Steers® app, then simply pick up your meal. It's that easy! But if you don't want to come in for a takeaway special, order online for delivery from your nearest Steers®. Then, you won't have to leave the office or your house to get that Flame-Grilled flavour you love. Save time and order ahead with the Steers® app.
The Steers® app is easy to use
We've made the app so easy to use, anyone with a smart phone can do it. It literally takes 3 steps to get your favourite Flame-Grilled meal delivered to your door.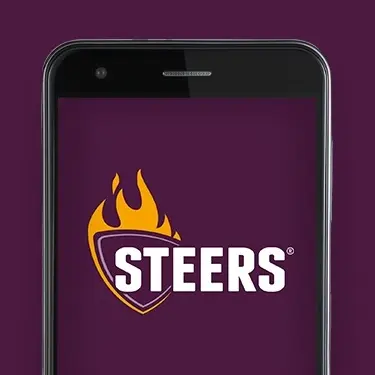 OPEN THE APP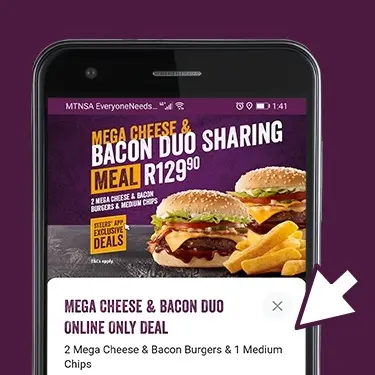 CHOOSE YOUR MEAL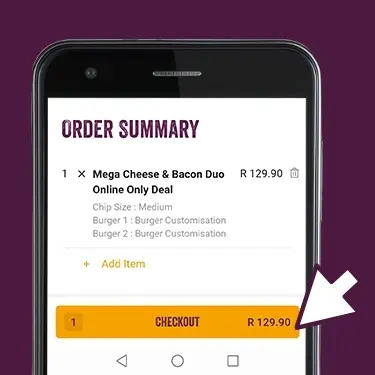 CHECK OUT YOUR ORDER
The Steers® app has exclusive deals
Are you a fan of great Flame-Grilled food deals and sharing with the fam? Then, you'll love our exclusive Steers® app deals!
We have sharing meals to feed a family of four, or just two people hanging out. And we can guarantee, you won't find meal deals like this anywhere else at this price.
Now that you know how great the Steers® app is, it's time you got it. So go ahead, download the app and order your favourite Flame-Grilled meals for a flaming-hot Steers® food delivery.