Real Flame Grilled Lunches
Up your
lunch game

with Steers®

Let's be honest Flame-Grilled fans, sometimes when you open your skaftin at lunchtime, you don't want that meal. The 'you' that packed that lunch in the morning is not the 'you' that's hungry at midday. So, why not upgrade your skaftin game with something you know you'll love, like a Original King Steer® Burger layered with fresh ingredients and flavourful sauces?

At Steers®, our lunch game is on point! We've got so many Flame-Grilled meals that will fill you up and satisfy your craving for a great lunch. And to help you up your lunch game, we'll tell you all about our great meals so you can upgrade your boring skaftin to a Flame-Grilled Steers® lunch.
Up your lunch game with a Steers® delivery
WEEKLY MEALS TO UP YOUR LUNCH GAME
Real Value Lunch
Turn your lunch game all the way up with a chicken burger that is juicy, tender and full of real flavour. Grab a hot, mild or lemon & herb Chicken Burger with Small Chips.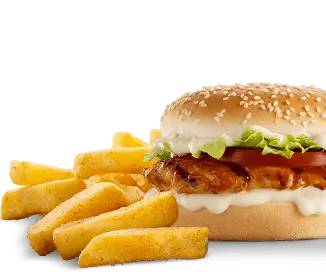 Real Hungry Lunch
When you've got a mega appetite for ribs, beef and a burger, we've got a meal up our sleeves that will up your lunch game. Grab our Mega Ribster Burger with Small chips.
KIDS CHEESE BURGER
We've added a tasty Cheese Burger Meal for the little ones. Grab a Kids' Cheese Burger with Small Chips and a 200ml Cappy juice.