Steers® Flame-grilled Burgers
Steers® Flame-grilled
Burgers
Steers® is known throughout Mzansi for our famous hand-cut chips and 100% Flame-Grilled Burgers. For over 60 years, we've been serving the best burgers with real flavour. From our award-winning King Steer® Burger to classics like our Bacon and Cheese Burger, and new flavours like the Mjojo™ Burger and plant-based Burgers. Every burger is Flame-Grilled to give you that mouth-watering flavour that's been loved by South Africans for generations.

We love burgers so much that we've created a variety of options so that everyone can grab a Flame-Grilled Steers® burger. Whether you're vegetarian, strictly Halaal, or don't eat beef, there's a burger for you at your local Steers®.
BURGERS FOR A BIG APPETITE
When you've got a big hunger and nothing but a real Steers® burger will do, then grab one of our double burgers or a massive triple burger!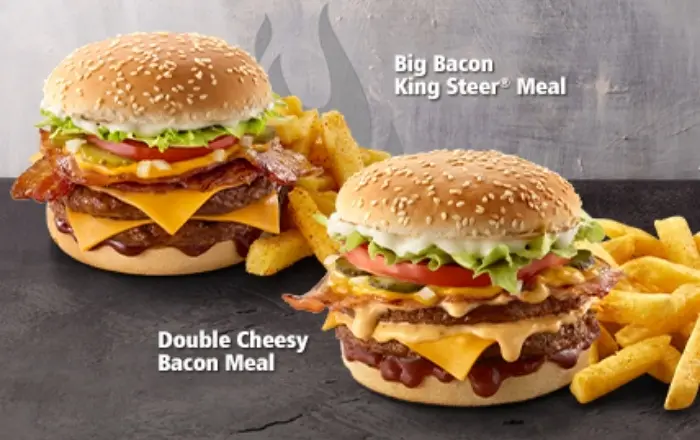 King Steer® Burgers
The OG of the burger game: The Original ing Steer® Burger! These double cheese burgers were built to satisfy any hunger. Grab the Original King Steer® Burger, the Big Bacon King Steer® Burger (also available with macon at Halaal Steers® restaurants), or the Mighty® King Steer® Burger – a massive triple cheese burger.
Double Cheesy Bacon Burger
The new burger on the grill! Our NEW Double Cheesy Bacon Burger, is a double burger with two 100g beef patties, a slice of cheese and bacon (or macon at our Halaal Steers® restaurants), generously topped with our cheesy sauce and fresh toppings.